Thursday, January 25, 2007
life
helo.. my life's back to normal agn. wel it has changed. i lost my new bf as soon as i got him.
life's like dat uh. but i gues evryone has to move on no matter wad. ;)
dar loves u. 6:07 PM.
Thursday, January 04, 2007
hapy new year!!
alamak.. dat time i sey i wil blog ryte.. sekaliiiii. my comp spoil sia!! belooo.. anywae hapi new yr ppl!!!! i gt alot of resolutions wich i noe im breakin aloooot of dem la.. i promised to go every lesson but i dint la.. i so dint! dar went? plz la.. im de last person whu wil go to every klas.. but i love my results for PRM! B+!!! weee.. but accountin.. F sia. wow. expected la actuali. hehe.. anywae de countdwn was kool! watched firewerks.. ciu ciu ciu!! dats wad it sounded like dint it? heh.. k mebe im tokin too much.. bubbyeeee.. update u soon. wen my coms okay.. tat'l be like in a thousand yrs? heh.. tata!!!
dar loves u. 12:45 PM.
Friday, December 22, 2006
=]
heyyy.. my frens told me dat a blog wud be borin if its al wrds.. so i let de pics do de talking k.. heh.. dis r pics dat wil tel u of how much my life changes durin dis pas few mths. yeah..
dis is my new kitten. cute eh.. heh..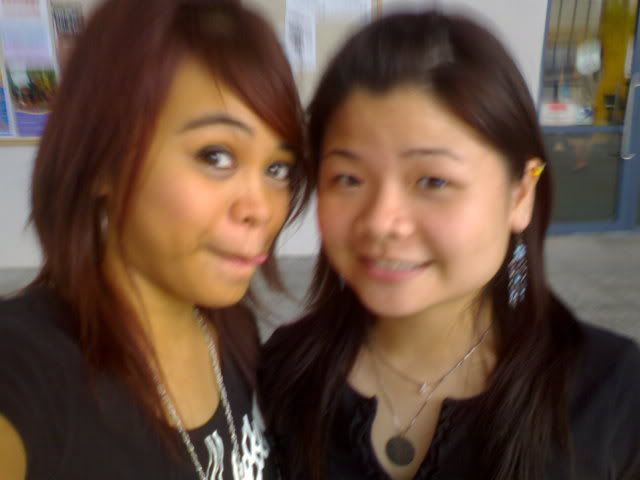 dar loves u. 1:06 AM.
Saturday, December 16, 2006
im baccckkk
helo. im bac.. tune in nxt week for more abt my life k. its totali chnged now. its like livin in a differen dimension. heh.seriusli....

i'l be bac =]
dar loves u. 1:28 AM.
Thursday, July 20, 2006
=)
actuali, im late for work as im typin tis. but oh wel.. jus wanted to tel evrybodi that im hapie. n i never cud be happier =)
dar loves u. 2:21 PM.
Saturday, May 20, 2006
15 mAy =)
My BeSt BdAe EvA. LeT dE piX tO dE tAlkiNg. =))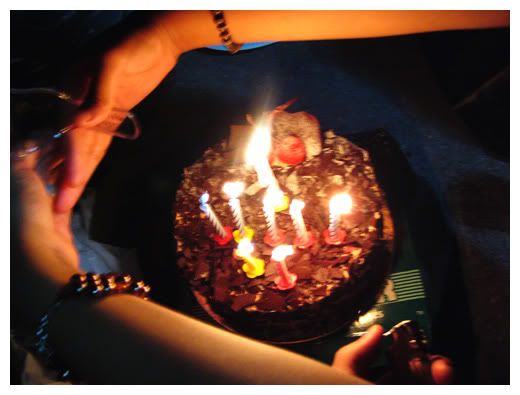 My BdAe cAkE =)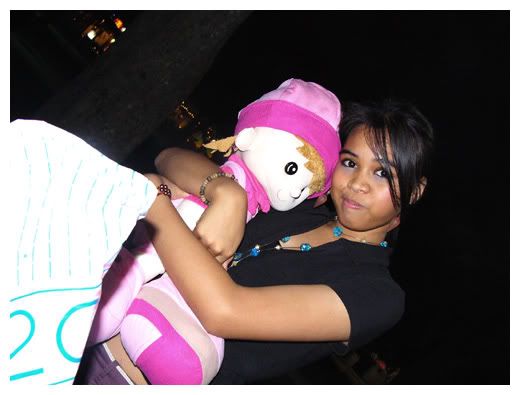 mAriA's pReSsiE fOr mE =]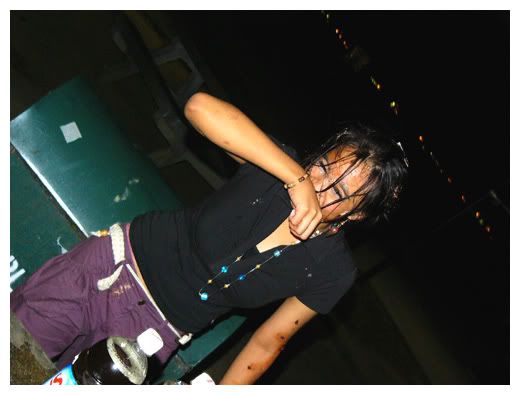 i kEnE bAsTaRd bY LuKmAn, riZaN n FiRaUzA. bOdO. HaHa.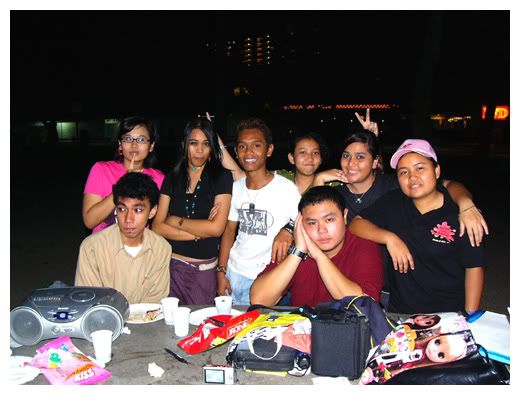 US. dE cOfFeEbEaNeRs.
dar loves u. 4:45 AM.
Sunday, April 30, 2006
iTs dE dAy!
HAPIE 17TH BDAE MARIA!!!



YeA tiS pOsT iS sPeCiaLi dEdiCaTeD tO mY dEaReSt fReN MaRia. hOpE u gEt aL dE PrEsEnTs u WaN k. dUN wOri. i HaVeN bOT SuMtiN bt iM sUrE i wiL gEt u OnE oK. LoVe U dArLiNg =))
dar loves u. 12:39 AM.
Friday, April 28, 2006
=))))
oMg. I cAnT bLiEvE iT. i LoVe SkuL. HaHa. cAn i dELeTe mY pReV pOsT? LOL. oNe dAy cAn mAkE mE cHaNgE mY miNd sO fAz Ya. oK i HaF dE mOs fUn kLaS eVa =)) i LoVe mY kLaS. 02 roX!!! yOOhOo!! bT ShiT tiNg iS tUeSdAy dEy gT oUtiN bT i hAf WORK!!!! ShiT mAn. i hAtE iT wEn tiS hApPeNz.. hAiX. bT nVm. i hAf a LoVeLy kLaS & iM LoViN iT fOrEvA & eVa!!! yEa! o2 rOcKz! ('',)
dar loves u. 1:23 PM.
Thursday, April 20, 2006
LaLaLa
iM bOrEd. iTs 2.35 aM. 8.30 tP oRiEnTaTn SiA. oMg. HaHa. iTs sCaRy. Y? wEL. tEL u WaD. pPL aRe LoOkiN fOrWaRd (mOs pRoB) tO gOiN tO poLy AnD mEeTiN nEw pPL. bUt iM nErvOuS. i hOpE rEtAiL mAnAgEmEnt hAs NICE pPL. u NoE wAd i MeAn. wAd iF i bCuM a LoNeR? OMG!! NeVe!!! HaHa. iF i dO, iFa, jU, aNyBoDi!! iM gOnA sTiCk wiF u fOR dE rEs oF mY LiFe N u GuYs bEtA dUn miNd! HaHa.


bTw, MaRiA cAmE bAc tO wRk!! YeA. i miSd HeR siA. nYwAe, i hAf a BIG pRoB. sHuD i wRk wEn iM sKoOLiN? i cANT beAr tO LeaVe wRk La. iTs LiKe mY sEcOnD hMe sEriOuSLi. iTs JuS pUrE fUn. dErS MaRiA, jEsS, riZaN, eStHeR, LuKmAn, aZri, fiRaUzA, sHikIn, aZmiE, aZhAr aNd sHeRiZa hU jUs qUiT.nT fOrgEtiN jAsOn oUr nEw MaNaGeR. wE'r LyK a FaMiLy. wE LaFf aT oUr oWn diRtY jOkEs. wEL, eStHeR's dE eXpeRt. sHe'S dE mAnAgEr SiA miNd u. HaHA. riZaN sEcOnD. N mE 3rD wiF mY niCk aS WET. u nOe Y i cUm iN 3Rd. LoL. HaHa. iTs sUcH a piTy dAt pOLy sTarTs sO sOoN. tiS mAy sOuNd cRaZy bUt i rAtHeR wErk. aTLeASt i gEt tO eaRn a fEw bUcKs Ma. hAiyA. LoL.


dE pAy'S bASiCaLi vErY LitTLe. 4 bUx pEr hOuR. bUt oNcE uR iN dE fAMiLy. dE mOnEy aiNt gOnA mAtTeR aNymOr. sEriUs. iM nOt a wRkahOLiC k. dUn LoOk aT mE LikE tAt. iTs jUs dE pPL aRd U. tOo bAd gD tiNgS cUm tO aN eNd. HaiZ. LyK aLwAeS. LiFe aiNt iT. wAd a cHoRe. y cAnT dE pPL wE miT sTaY wiF uS fOrEva? tiNgS LovE tO cHaNgE. bUt i HATE cHaNgEs. aRgH. i HaTe tO gRoW oLdEr. i wAn tO bE a TeeNaGeR FOREVA. i HaTe iT wEn fEeLiNs bTwN cOupLeS cHaNge. i HATE iT wEN mY cAt hAS tO diE n mY DaD hAs tO gO. cHaNgE wAS nEva SuMtiN i AcCePtEd. i HATE CHANGEEE!!!


LeMi tEL u SuMtiN. i sTiL bUy cAt fD fOr tOffEe. i pReTeNd hE's aLiVe. i mENtiOn tO eVrYbOdi dAt i'V a HaPi fAmiLy. hU cArEs aNyWaE? iTs nOt aS iF iT mAttErS. aS LoNg aS i nOe wAd dE tRuTh iS. tHo i hAvEn rELi cUm tO tErMs wiF aNytiN. HaHa, wAdEvEr. oK La. i gTg nW. bUBbyE. fiLs niCe tO vEnT tiS oUt. i LoVe u PpL. mUaX!
dar loves u. 2:37 AM.
Tuesday, April 18, 2006
CaNt SLeEp
K FiNe. i CaNt sLp. hOw tO. AiyO.. bTw, fOr dOsE hU hAvEN hEaRd fRm Me.. iM wErKiN aT cOfFeEbEan aT paRkwAy pArAdE. N iM gOiN tP.. rEtAiL mAnAgEmT.. aM i sTuCk wiF tiS tYpE oF tiNg fOrEvA oR wAd??? aNywAe.. gUyS oFtEn cOmMeNt tAt gErLs aRe hArd tO uTd. LoOk, i tiNK bOyS aRe wOrSt.. hAf u EvA wOnDeRed wAd gOeS oN iN dEiR miNd wEn dEiR nOt EaTin Or sLpiN? HaHa.. sORi nO oFfEnCe.. jUz.. i dUn uTd gUyS. nOt eVeN hiM.. aTLeAsT gErLs, wE tiNk siMpLiCiTy.. u GuYs jUz hAf tO tRY hArD tO tiNk aBt wAd gErLs aRe aL aBt.. bUt u gUyS, sUmTiMes iTs imPoSsiBLe. k i dUnO wAd iM tOkiN aBt. aNyWaE, LeT mE giF u A sCeNaRiO.
bOy Z mEeTz gErL Y. dEy gEt aLoNg aS fReNz. dEn gErL Y nOeS dAt hEr fReN G LyKs hiM, sO sHe iNtRoEd hiM tO hEr La. DuHh. bUt wAiT. bOy Z aNd Y kEpT gEtTiN cLosEr AnD cLOsEr. sO.. wEL. dEy gOt tO gEtHeR. eVrYtiN wAs OkAy. PERFECT. hAiZ. bUT gD tiNs cUm tO aN eNd. GeRL y tOLd Z aBt Gs cRuSh oN hiM. Z aDmiTtEd dAt hE diD LYk hEr. bUt oH wEL. iTz ovEr. oR sO Y tHoT. bUt, G diN nOe aNyTiN aBt Y aNd Z gEtiN tOgEdEr. sO, G cOnTinUeD LiViN hEr dReAm. dEn Z mEt G tO tEL dE tRUtH.
yA, MeT. oF cOz Y diN nOe aNyTiN aBt iT. y mUz Z gO tO dE eXtEnD oF miTiN z? i dUnO. dO u? mEbE z sTiL LYkD hEr? oK. dAtS iT. oNe wEeK LaTa, Z toLd Y dAt hE wAs cONFuSeD bTwN y AnD G. gEeX. i ThOt wEn u aRe a cOupLe, z LoVe Y. nO sUcH tiNg aS cONfuSiOn. HmM. wOnDeRs. sO, wTh? i dUnO. bUt mY peRsOnaL oPiniOn iS dAt Z iSn ReAdy fOr LOvE. aNd y, y ArE u wiF him? hE dOeSn eVeN nOe iF hE LovEs u Or G. oH yA, G wAs rELi uPsEt At Y fOr bEtRayiN hEr. cOz fReNz dUn tKe eAcH oThErs guYs rMb? bUt cAn LovE bE hELpeD? gUeS nOt. sO bAcK tO y, bELiEvE mE, a gUy LikE dAt. wAd iS hE. hE's nOt a gD bF.
oK. tAtS eNUgH. LoVe iS cOmpLicAtiN. aNy cOmmEntS? fEeL fReE. bYeE.
dar loves u. 2:07 AM.
BaCk. =)
HeY pEePs... iM bAcK.. LoOk. i dUnWaNa LiE.. nO wOnDeR i diN wAnA LoG iN fEr a LoNg tYmE.. wEn i gO bAc hErE.. LooK aT frEnStEr.. jUs LoOk.. dE sAdNeSs wiL cUm rEtUrNiN aGn.. SiGh.. dE hUrT.. dE pAiN.. i GuEs wAd hAppEnEd 6 mThS bAc.. iT wiL nEvA bE fOrGoTtEn..

i nOe u hAtE mE gErL.. wEL gUeS wAd. i HaTe u tOo.. nYwAe, fOr dOsE hU dUnO wAd iM tOkiN aBt. dUN bOtHeR.. iTs cOmpLiCaTeD.. i'L bE bAc in A fEw dAYS to ChAnGe mY LaYoUt.. bYe PeePs.. im bACKKK!! fiNaLi :)
dar loves u. 2:01 AM.